I can finally announce that I managed to survive day 1 of #SXSW Interactive. Here's a recap – educational and silly- of the highlights of what I experienced.
First off- comparing to last year. I noticed that some locations or certain floors of buildings (JW Marriott) had slow internet for the first day. In all reality though, the connectivity has been good. Year over year it's always better, faster, and more prolific than the last.
Cell service is another story. I often had my phone completely lose the network. Almost makes me curious if the hotels/venues are blocking it to stop people from doing personal hotspots…
Buzz Words
Wearables are the new Big Data. Wearables have always been interesting, and have had a foothold on the panels in previous years- but this year not only are there more panels and events, but the events are downright impossible to get in to. You have to show up over 30 min to even HOPE to get space. I showed up to one 30 min early and the room was already closed for being full. Attending sessions is starting to feel like when you're at a music festival and you have to sit through an act you don't care about in order to get near the front of the crowd for the one you want…
Neuroplasticity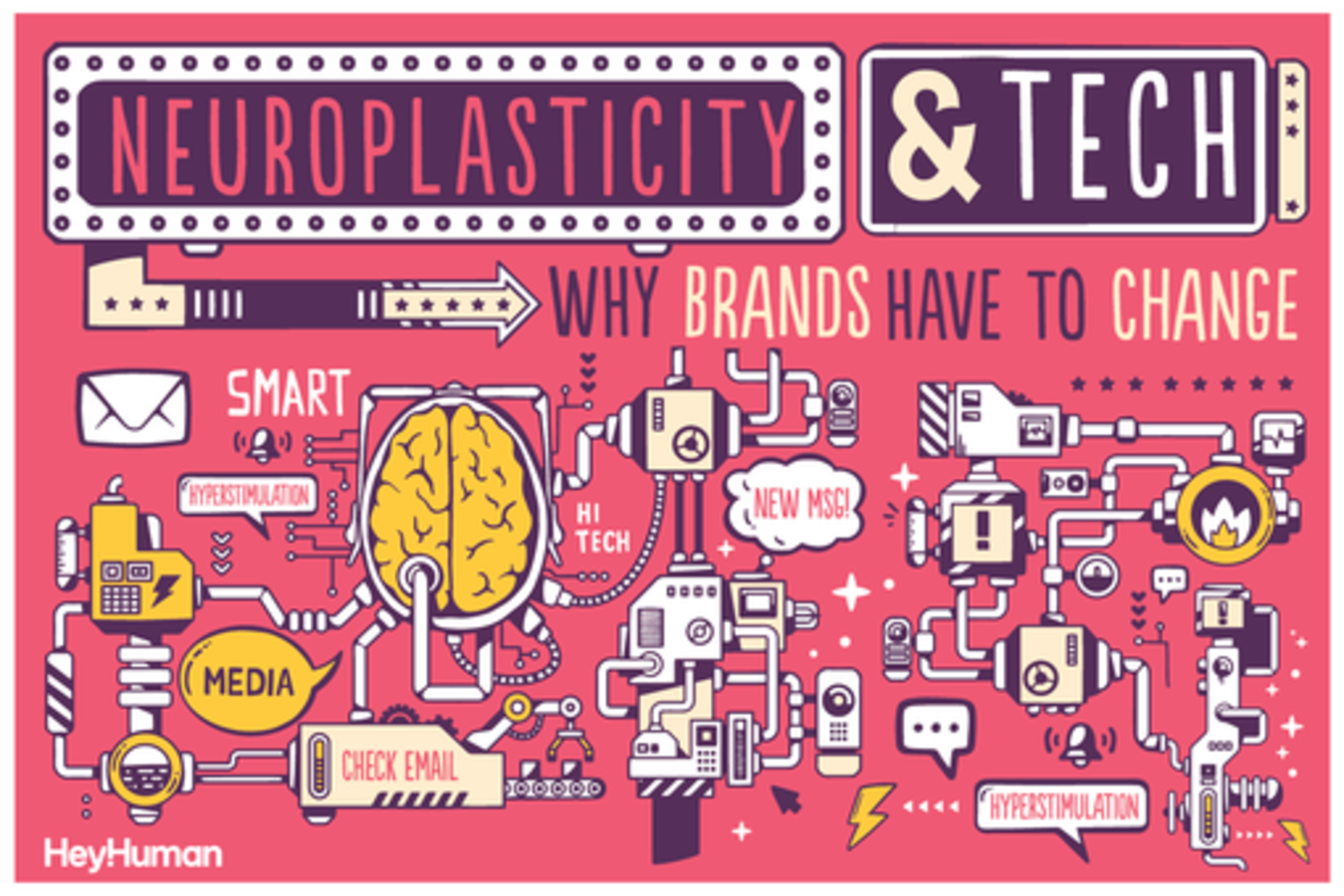 The first talk of the day, and still one of the best, was covering the topic of neuroplasticity and how our brains are affected by our addiction to technology. Packed with great slides and surprising statistics, the speakers sought to inform the audience about the potential risks of 'task switching' (what happens when you try to multi-task), and how advertisers need to respond to these new media consumption habits.
When speaking to the fact that audio and visual need to be married- they presented one of the most engaging commercials yet, put out by Honda. Intended to really grab the viewers attention away from their multiple devices, the Honda commercial exemplifies how striking audio + visual can interrupta distracted audience (proven by the fact that it was one of the only times that the entire audience was truly, completely engaged with the projector).
Kapture
Hanging out in one of the lounges, this one centered around the fuure of wearables, I met the guys behind Kapture, an audo recording wearable device. Kapture is an always on, always buffering audio recording device that allows you to exist naturally, but always be able to call back the previous minute of audio. Allowing you to edit and publish from your phone into the cloud, you can wear the watch-like device and record moments naturally, instead of having to say "do that again!" While I still personally have some reservations about the security of such devices, and the possibility of your data being sold to a third party later, I found the concept pretty neat.
And of course, most ridiculous moment? Walking past a pack of humans dressed in fuzzy squirrel suits. Yeah.